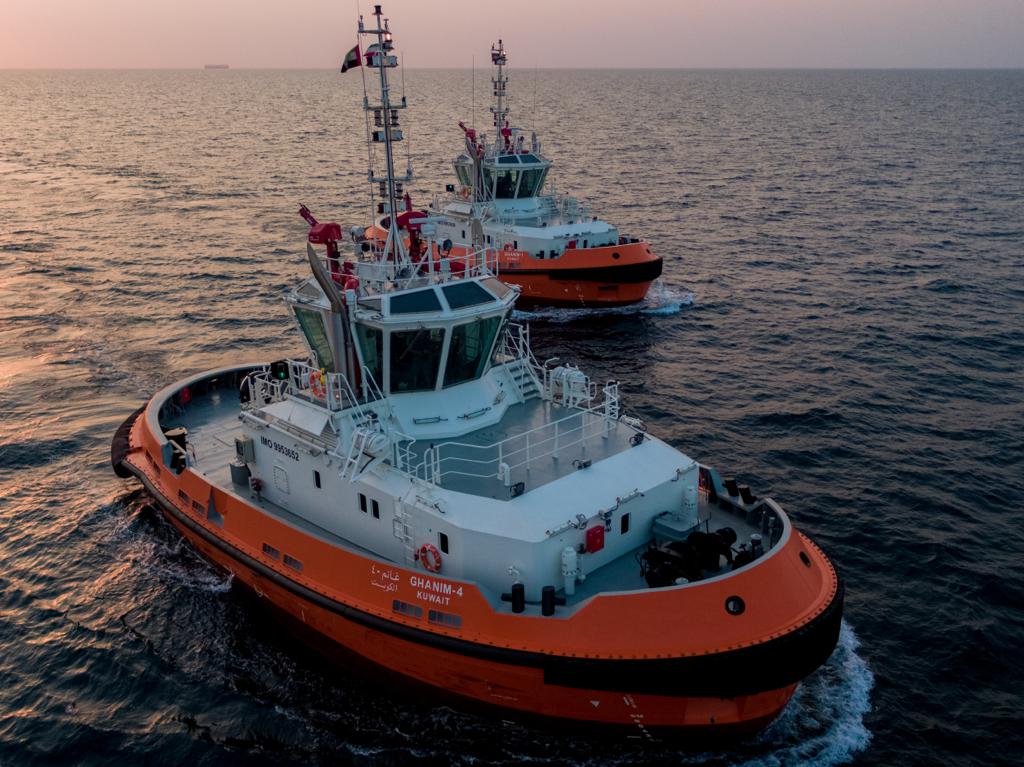 September 14, 2022
Innovative Tug Builder
Due to its location in Dubai, Grandweld is well known for building highly complex OSVs for the Oil & Gas industry. However, the shipyard also has a long history of building for the Harbour, Escort, and Terminal Tug market, with tug & salvage customers being very loyal to Grandweld due to a well-earned reputation for innovation, quality, and fast delivery.
But why does Grandweld have this reputation for innovation and quality, and what tugs is the company currently building?
RECENT DELIVERIES
Grandweld has recently delivered four 27.5 meter, 50t BP tractor tugs for Specialities Construction (SCC). The vessels will operate in Shuwaikh Port in Kuwait as escort tugs equipped with Z-drive propulsion and added capabilities such as firefighting, crane & oil recovery.
The owner chose Grandweld despite a highly competitive bidding process against a Spanish shipyard, with Grandweld's price, customized technical offer, fast delivery, and demonstrated shipbuilding capabilities as the winning factors.
The pandemic and recent supply chain disruptions have affected how business and procurement are achieved. Grandweld used strong relationships with suppliers, and proactive project management to ensure that the SCC tugs were delivered on time. Commitment to on-time delivery is a key reason customers trust Grandweld.
INNOVATION:
Grandweld is investing heavily in research and development of hybrid powering solutions. We see that in the future there will be more focus on sustainability, with the long-term goal being renewable energy use in new ships. Following the completion of this R&D, Grandweld will soon announce vessel designs with Hybrid Powering Solutions.
Innovation at Grandweld is focused on its Engineering and IT departments, as over the last 20 years the company has developed a highly sophisticated digital shipbuilding process. The digital shipbuilding process integrates seamlessly across shipyard departments because it builds upon Grandweld's strategic focus on developing in-house capabilities as a competitive advantage. Innovative ideas are generated from all departments and integrated through the Engineering and IT departments' digital systems, with highly productive, cost-saving, and innovative solutions developed that improve all processes across the yard.
Grandweld's leadership believes that strong in-house capabilities combined with an excellent organizational culture results in better teamwork and enhanced communication levels between internal departments. This is facilitated through constant digital innovation using Grandweld's proprietary ERP system that integrates engineering with purchasing, planning, execution, and customer communications. All this results in high-quality, fast, and cost-effective results.
Grandweld is now a leader in digital shipbuilding. With the yard centrally located in Dubai, clients have easy access to one of the most advanced tug builders in the world.
We welcome you to explore Grandweld's shipbuilding solutions via our website: www.grandweld.com