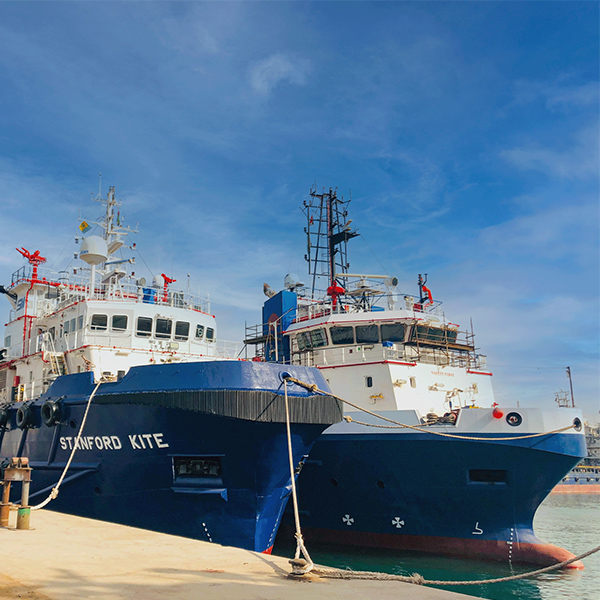 September 19, 2022
Grandweld Afloat Repair In Dubai and the UAE
Grandweld has decades of experience providing afloat repair services to ships in the UAE. Learn more about our alongside ship repair services below.
Afloat repair in the UAE: 24/7 ship repair by Grandweld
Grandweld's Afloat Repair Division is dedicated to providing 24/7 ship repair services to ships in Abu Dhabi, Dubai, Sharjah, Ras Al Khaimah, Ajman, Umm al Quwain and Khorfakkan.
Afloat repair UAE: Grandweld's large range of services
Grandweld is the most established and largest DMC shipyard. We repair ships both alongside and at the anchorage in the UAE.
DMC has a long wharf for afloat repairs, where Grandweld repairs ships up to 150m in length alongside. We are well known for our experience in repairing jack-up barges and pipe-laying ships.
For ships above 150m, vessels are repaired at Port Khalid, Sharjah, or Port Rashid, Dubai, UAE.
Afloat repairs in Dubai: Grandweld at DMC
We do large afloat repairs alongside the wharf in Dubai Maritime City (DMC). This is highly convenient for shipping companies because our shipyard is located in DMC, and the speed of services is maximized at DMC.
Our comprehensive facilities and skilled engineers ensure that fabrication, mechanical, electrical, machining, surface treatment and automation services are done quickly and efficiently.
Afloat repairs in Jebel Ali, Sharjah & Abu Dhabi: Grandweld's Ship Repair
Our afloat repair division has decades of experience working under strict deadlines in Abu Dhabi, Jebel Ali, and Sharjah. As marine repair professionals, we understand that time is money. We do a wide range of ship repair services in these locations from fabrication, through to laser alignment, diesel engine overhauls, electrical repairs, and automation jobs.
Afloat repairs: Range of services
Our afloat repair services include:
Steel and aluminum fabrication and renewal.
Pipe fabrication and installation.
Mechanical services including pump & valve overhauls, engine, compressor and deck equipment overhauls.
Electrical: electrical rewinding, load testing, installation of electrical panels, marine equipment, lighting & electronic installations.
Laser alignment: propulsion shafts and machinery, pumps, bearings, and deck equipment.
Machining: line boring, shaft repairs and other machining services.
Propulsion system repairs: various models and brands. Inspection and services, seal, and spare part replacement.
Control systems: Installation, commissioning, repairs and troubleshooting.
Blasting and painting: mobile blasting and painting teams.
Conversion projects: installation and upgrade jobs where ships do not need drydocking.
QC/QA: mobile teams for quality control and assurance.
Project management: strong project management of afloat repairs by experienced marine engineers.
These afloat repair services are augmented massively by our DMC-based shipyard facilities. We will pre-fabricate, overhaul, machine or repair large marine components and send them to your ship for installation.