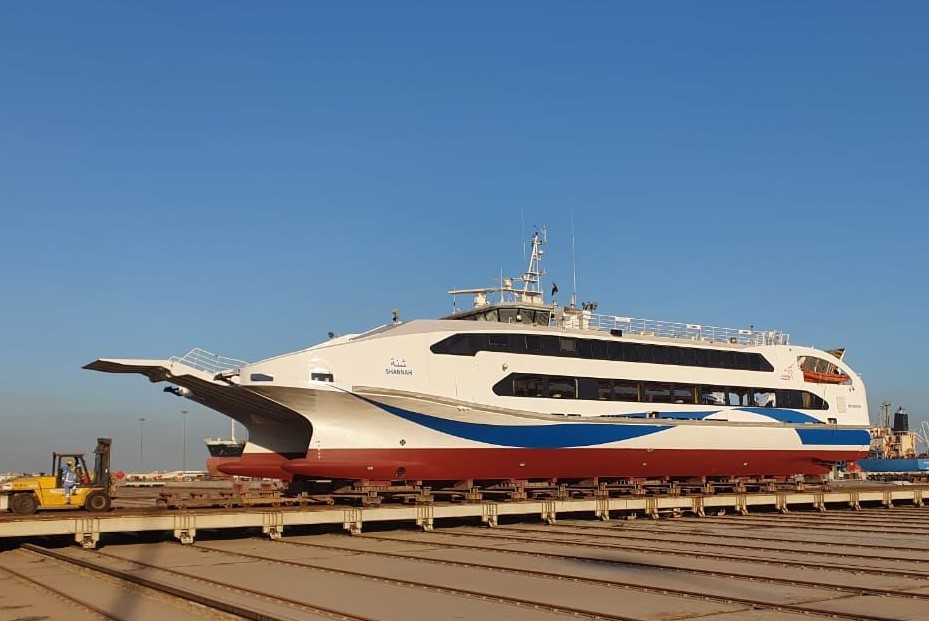 March 28, 2023
Grandweld: What to look for in the best Fast Ferry Builder in the UAE
Have you ever thought about what it is like to build a fast ferry from scratch? The innovative process of building a fast ferry is a fascinating one that requires a special blend of technical know-how, imaginative problem solving and a deep understanding of customer expectations.
In this blog, we explore how to find the best fast ferry builder in the UAE, and also the difficulties, opportunities and benefits of this exciting business. This detailed insight into the world of fast ferries is not to be missed, whether you are a nautical enthusiast or simply curious about the latest trends in transport. So, tighten your seat belts and get ready to sail!
Background:
The emergence of fast ferries is a prime example of how the transport industry is constantly changing. This exciting sector developed because there was a continuing need for moving large numbers of people quickly across various bodies of water.
From the 1960s onwards, different ship3+yards have been innovating to build high-speed passenger vessels, and in the earlier days, they were often hydrofoils or even hovercraft. However, from the 1990s high-speed catamaran ferries have dominated the sector. These types of hull shapes have twin hulls that are long and slender, which allows for transverse stability but also higher speeds due to the narrow hulls.
Passenger transport could be across the sea, a lake or even along a river. Each environment demands different design approaches, for example, a rivercat requires a hull form that generates small waves to prevent erosion of river banks. Alternatively, a sea-going high-speed ferry needs to operate in rough seas and deliver their passengers in comfort. Now, the focus is also often on sustainably powered fast ferries that have low or even zero emissions.
Finding an innovative and also reliable fast-ferry builder that can take care of these challenges is not easy, however, in this article, we will outline what to look for when building your next ferry.
The Opportunities and Benefits of Working with a Fast Ferry Builder in UAE
​Working with a ferry builder in the UAE offers a wide variety of advantages. One of the key advantages is that you'll be able to build your ferry more quickly and effectively. The UAE is a very convenient location to build ferries because it is actually very central to many ferry markets. Due to this, mobilizing your new ferry from our yard will be easy and convenient for many ferry routes.
You will be able to negotiate a better price for your ferry with the aid of the most advanced fast-ferry builder in the United Arab Emirates. We use digital shipbuilding technology that makes the shipbuilding process highly automated, cost-effective and accurate. Ships are designed in 3D, and plans are digitally sent out to the yard for manufacturing.
Our workforce is also recruited from around the world to ensure we find the best people, so you will get quality, innovation and on-time delivery all at a competitive price. Our team of engineers and shipbuilders are experts in their fields and are driven to provide our customers with the best fast ferries.
As the most innovative ferry builder in the UAE, you will be able to receive a custom-made fast ferry with Grandweld. Our bespoke vessels ensure that you will be able to purchase a ferry that is tailored to your requirements. We do our own designs and we also collaborate with leading international fast ferry designers. Remember our earlier point about designing your fast ferry to suit its environment? This is where design is crucial, whether you need zero emissions or want to cruise quietly along a beautiful river while sipping a café latte.
Quality will guarantee the longevity of your ferry. Work with our experienced project management team to select beautiful interiors that make your passengers smile! Fast ferries must be of built to excellent standards, using the most recent equipment and technology. All this, plus an incredible design and aesthetic will ensure passengers remember you next time they travel!
Other benefits include a warranty that is backed by excellent after-sales service. Such is the level of service you get when you build with a fast ferry builder in the UAE. Knowing that your ferry is backed by such protection in case of trouble will give you peace of mind.
Our aftersales service record for fast ferries includes regular contracts with ferry operators including the Roads & Transport Authority of Dubai, National Ferries Company of Oman (Mwsalat) and Abu Dhabi Ports (Safeen). Each of these companies operates high-speed passenger ferries that come to our yard at DMC for maintenance, repairs and dry dockings. Alternatively, for our customer's convenience, we also go to their location to conduct repairs and maintenance. This experience is invaluable for our ferry-building services, as we understand what is needed when building a reliable ferry.
In conclusion, partnering with a fast ferry builder in the UAE is a terrific way to receive a ferry of high quality at a competitive price.
Grandweld: The Best Fast Ferry Builder in the UAE
Grandweld Shipyards is the leading fast ferry builder in UAE and Dubai. You will not find another company in Dubai or the UAE with the years of experience we have in building high-speed Aluminium ships. We have constructed more than 100 high-speed A
Aluminium vessels for customers in the UAE and other countries. We have built so many vessels with high capacity for carrying people across long distances and in often arduous sea conditions. We know creature comforts are necessary for passenger ships, and reliability counts. Our priority is for passengers to arrive happy, comfortable and safe at their destination.
Innovation, reliability, commitment to on-time delivery and competitive pricing are our main strengths. It is because of this believe we are the best fast ferry builder in the UAE. Look no further than Grandweld if you're seeking a reliable fast ferry builder you can trust.
To learn more about our design experience and how we do digital shipbuilding, click the link to the following blog: grandweld.com/digital-shipbuilding-in-dubai