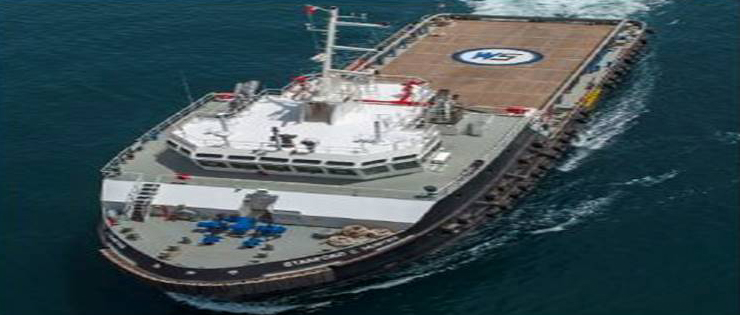 June 17, 2021
Grandweld Shipyards parent company, Stanford Marine Group (SMG), appoints a new board and secures financing from National Bank of Fujairah
Grandweld Shipyards is pleased to announce that parent company, Stanford Marine Group (SMG), appoints a new board and secures financing from National Bank of Fujairah (NBF) as part of robust growth plans.
Secures US$45 million financing from National Bank of Fujairah for capital restructuring and expansion plans.
Appoints new Board of Directors chaired by Mr. Saeed Al Hajeri to strengthen its governance and guide its growth ambitions.
Commenting on these developments, Elias Nassif, Founder and Group CEO of SMG, said: "Having secured our financial future with the debt buyout completed with SHUAA earlier this year, we are now looking ahead and focusing on our revitalized growth potential. The financing from NBF will be instrumental in expanding our operations in the region and enhancing our service offerings, as well as further strengthening our capital structure. The fact that we have access to this new financing, despite the economic challenges, is a reflection of our strong positioning in the marketplace. We are also confident that the new Board will be able to accentuate the growth of SMG, deliver value creation opportunities for our stakeholders and ultimately help us to achieve our growth ambitions."
As part of SMG's emphasis on enhanced corporate governance, the company has appointed a new Board of Directors, led by Mr Saeed Al Hajeri as Chairman, together with Dr. Saleh Al Hashemi, Mr. Oliver E. Zoeger and Mr. Ajit Joshi. Mr Al Hajeri is currently Vice-Chairman of Abu Dhabi National Energy Company PJSC (TAQA), Vice-Chairman of Islamic Arab Insurance Company ("Salama") and an Executive Director at Abu Dhabi Investment Authority (ADIA), having previously held a wide range of Board directorships and senior management positions particularly in international finance. In addition, each of the Directors brings a wealth of expertise in business development, financing and corporate governance which will support SMG's revitalized business as it seeks to execute on its growth ambitions.
In January 2021, SHUAA Capital psc (@SHUAA Capital) successfully completed a discounted debt buyout of Stanford Marine Group's AED 1.13 billion (USD 308 million) debt, resulting in a successful outcome for all parties involved, including the participating banks. The restructuring strengthened SMG's liquidity position and helped SMG's lenders exit with a cash recovery.