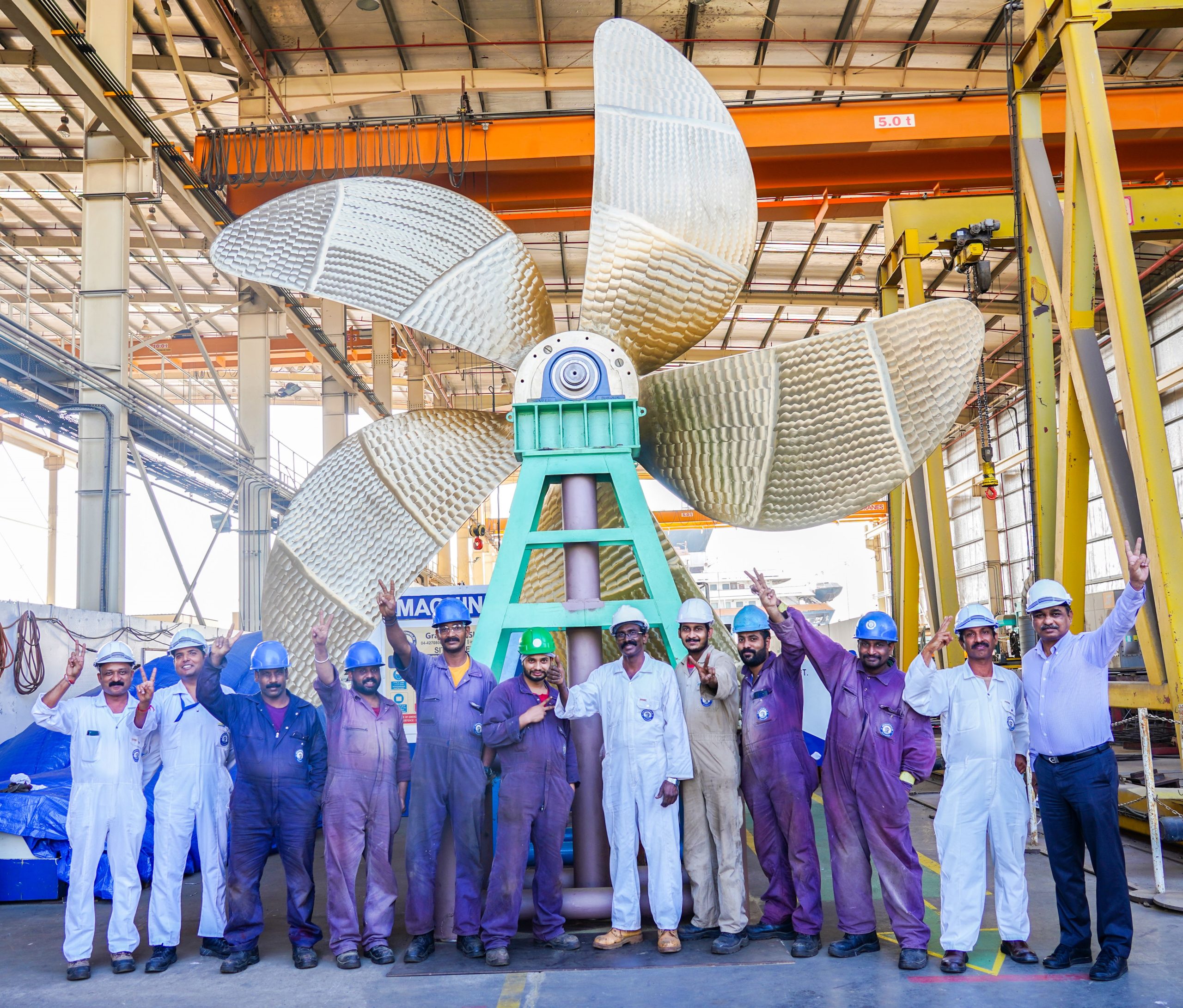 March 2, 2022
Grandweld completes major propeller repair
The Grandweld Ship Repair Division recently completed its largest propeller repair in the company's four decade history.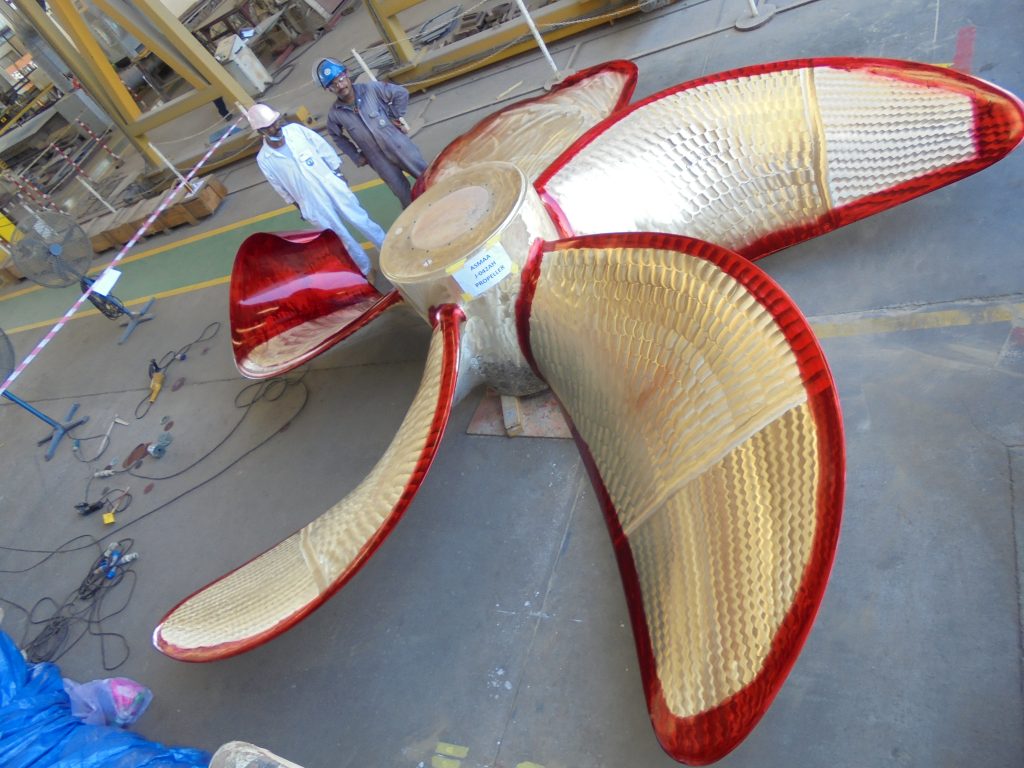 The owner contacted Grandweld on an urgent basis, as the vessel, a bulk carrier, had sustained severe damage to its propeller. Damage included:
Severely bent propeller blades
Broken blade tips
Propeller blade chipping and pitting
Loss of balance and propulsive efficiency
Class approved propeller repair was required as the ship needed to return to service immediately. Grandweld was subsequently contracted, and the propeller was removed and transported by road to our workshop in Dubai Maritime City.
In Grandweld's four decade history, we have repaired thousands of propellers, many often bent and broken to extraordinary conditions. However this large diameter propeller repair set a company record. 
The propeller specification:
Diameter: 5,800mm
No. of Blades: 5
Turning Direction: Right Handed
Material: KAlBC3
Weight: 12,860kg
Classification: N.K.
The propeller required repair to within strict tolerances and to achieve optimal balance.
Grandweld's QC department coordinated closely with Class N.K. of Japan to ensure that our procedures were accepted and work was surveyed and certified throughout the entire process. 
Particular care was required to ensure that repairs were done within heat limitations and any build up was carried out with class approved welding consumables.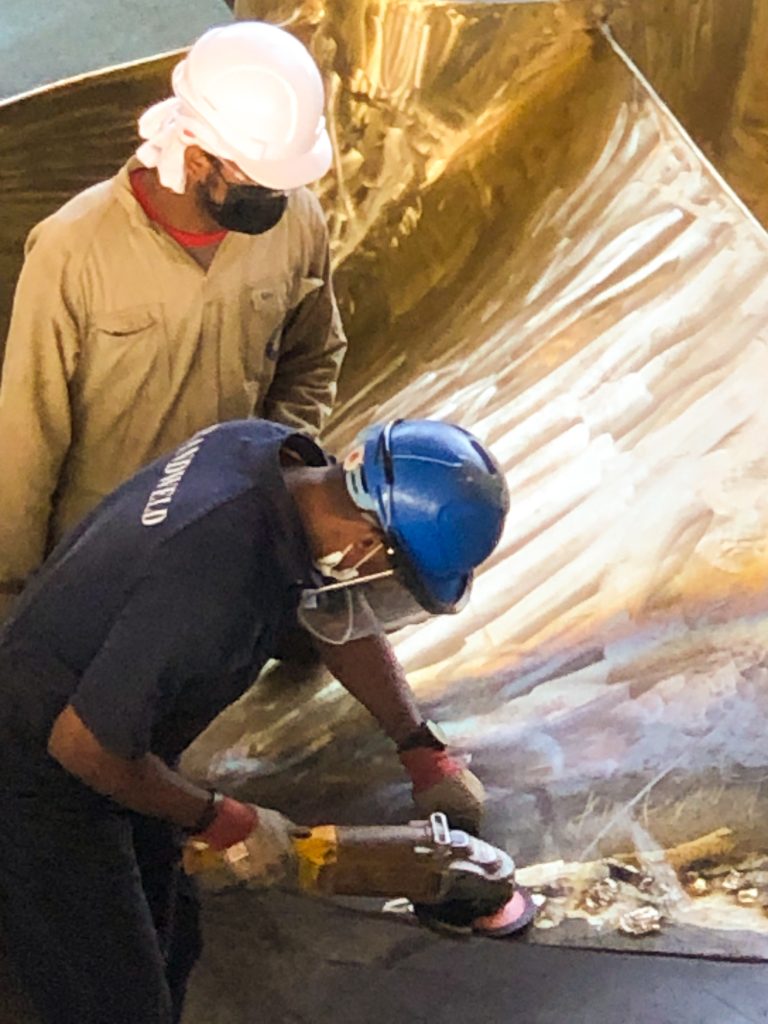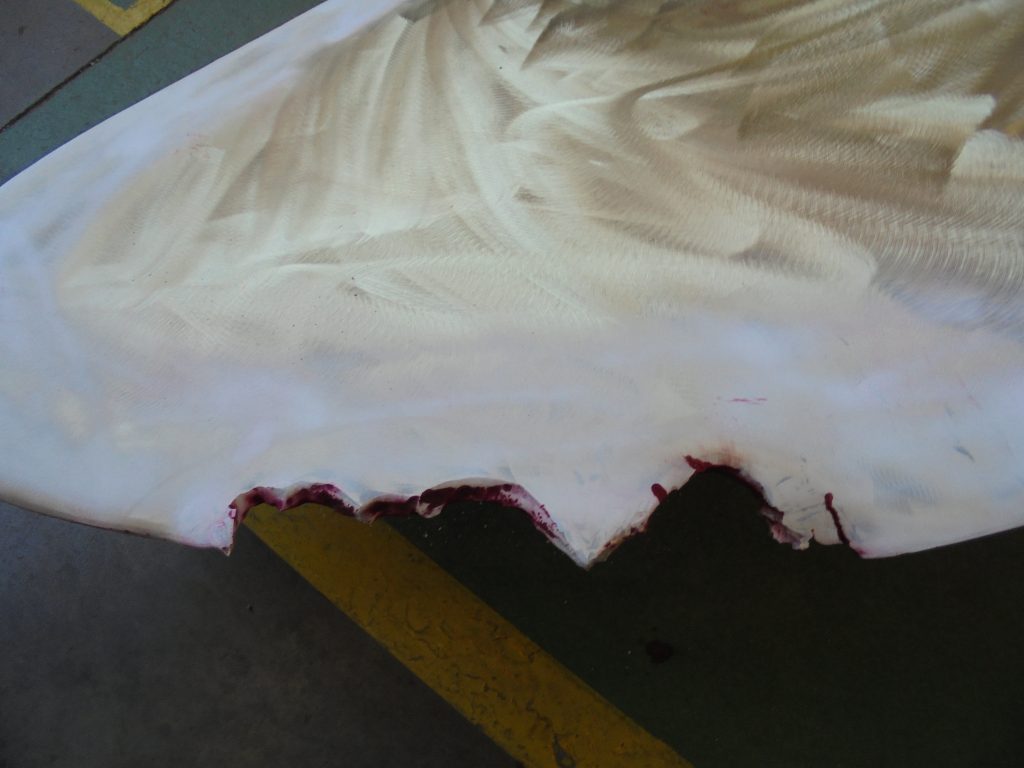 The work included:
Dye penetrant testing
Build-up on broken and pitted blades
Blade straightening
Static balancing
Verification of pitch
The severe bend in one blade in particular was very challenging as the large blade area and high thickness required methodical work procedures to ensure the structural integrity of the blade was maintained. This was achieved through careful control of heat and applied force.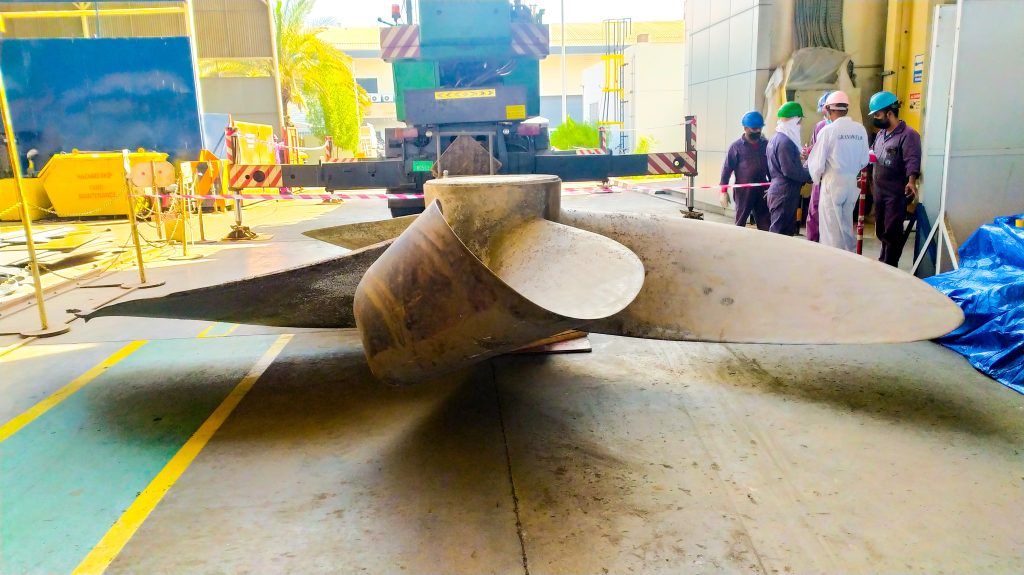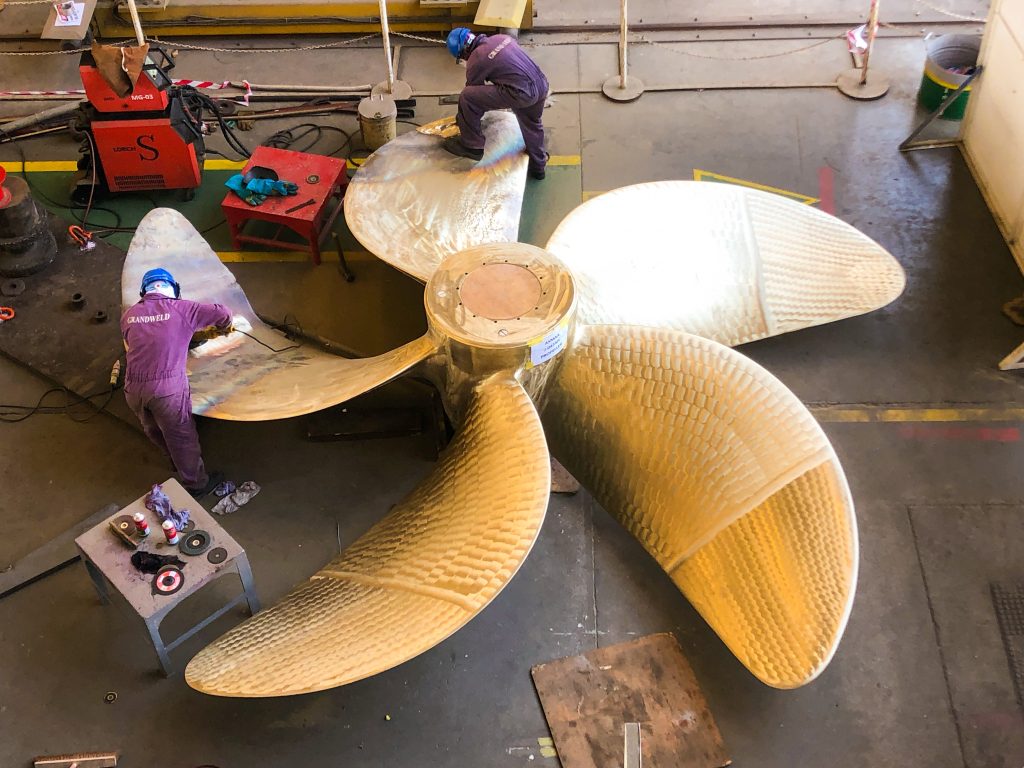 Balancing is essential to ensure that there is no vibration caused to the ship's shaft, seals, bushes, gearbox, engine and other propulsive components.
It is critical to ensure that no imbalance occurs due to misalignment of weight caused due to blades being out of tolerance and thus straightening and build up of pitting and repair to broken areas requires experienced supervision and highly trained technicians.
Prior to re-delivery of the propeller, careful final touches were completed including grinding to the original propeller profile, polishing propeller and a final dye check. Reports to class were submitted, ensuring quality achieved N.K. standards.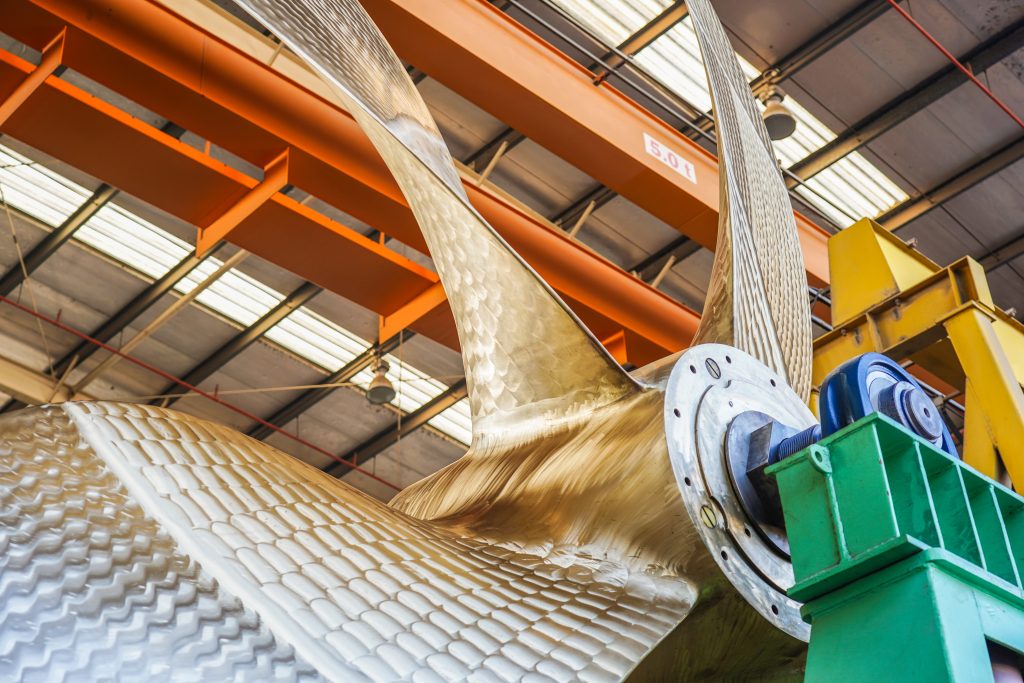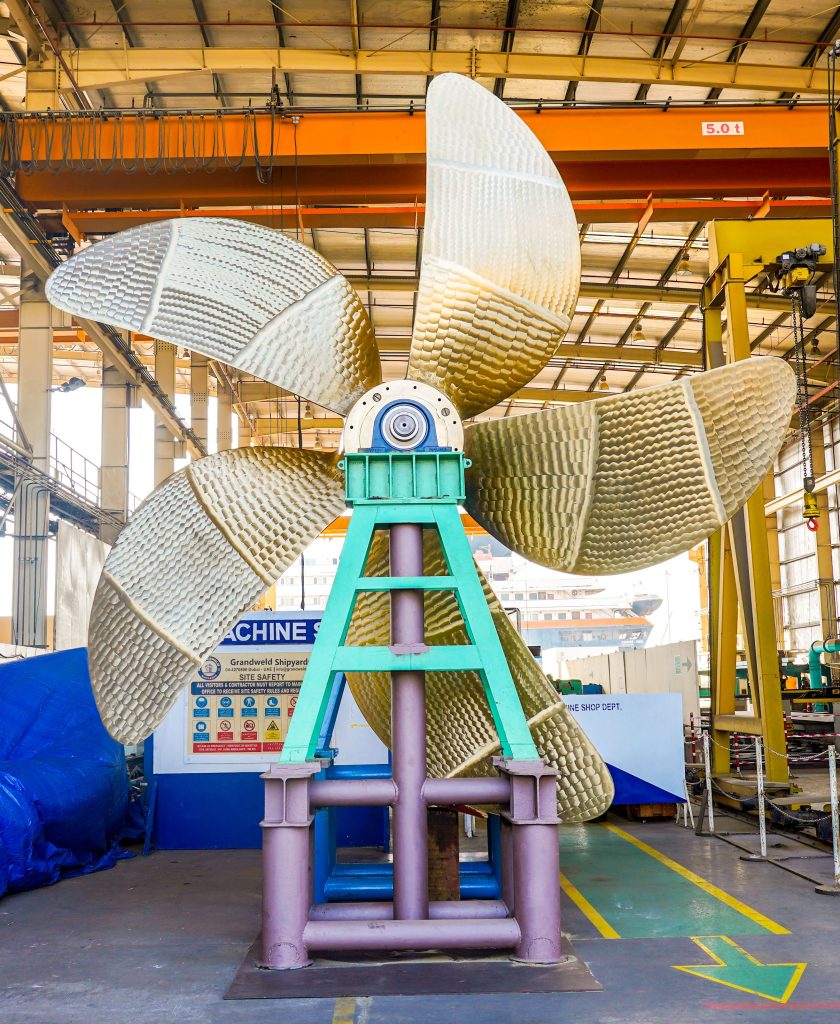 Grandweld's management team are very proud of their propeller repair division. This division is an integral part of our 'full service' approach, whereby customers can receive strong project control due to the large set of capabilities our yard offers. 
Learn more about Grandweld's capabilities and services by exploring our website.