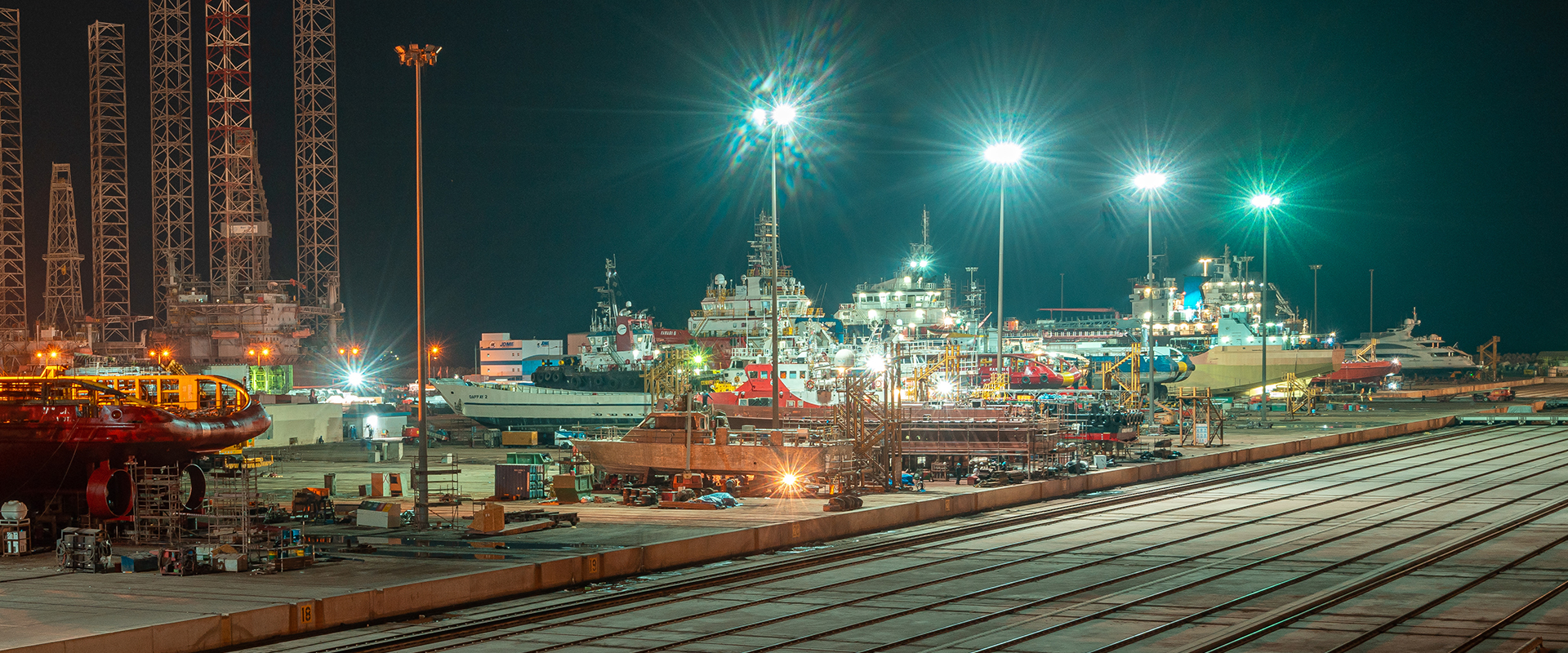 November 26, 2021
Grandweld wins major escort tug contract, underlining its position as a leading, high-quality shipbuilder
Grandweld will build four 27.5m 50 tonne bollard pull tractor tugs for Specialities
Construction in Kuwait
The contract is a testament to Grandweld's innovative capabilities and focus on quality,
as well as strong market demand
Following the win, Grandweld has confirmed a solid order book until the end of 2022
United Arab Emirates, 6 September 2021: Grandweld Shipyards (Grandweld) has been awarded a major new contract by Specialities Construction (SCC) to build four 50 tonne BP escort tugs to operate in Shuwaikh Port for Kuwait Port Authority. The design includes Escort Notation, Z-drive propulsion and added features such as firefighting and oil recovery.
This award ensures that Grandweld has a solid order book until the end of 2022 and further cements the company's position in the market for building customized, high-quality tugboats. It is another sign of consistent and growing demand for Grandweld's products and services following two strong years of other major ship building and repair contract announcements.
Grandweld, part of Stanford Marine Group (SMG), is one of the region's leading shipyards, and provides a fully integrated service in shipbuilding, ship repair and engineering solutions. Grandweld has built a strong reputation for delivering innovative, reliable ships that is supported by excellent after-sales service.
Grandweld utilizes advanced shipbuilding technology including a highly digitized workflow that is integrated with yard systems. To ensure customer needs are met, Grandweld selected renowned international tug-boat designer Robert Allan Ltd to produce a customized version of its TRAktor 2700-Z design, while Grandweld's engineering department will produce the highly detailed 3D production design.
Elias Nassif, Founder and Group CEO of SMG, commented: "We see exciting opportunities for growth across the region. This contract win for Grandweld in Kuwait is the latest in a growing pipeline of business and is proof that Grandweld is a competitive, innovative and high-quality shipbuilder in the tug market. We look forward to building these tug-boats here in the UAE to showcase our innovative engineering capabilities and strengthen Grandweld's order book visibility through the end of 2022."
Jamal Abki, General Manager, Grandweld Shipyards, said: "At Grandweld, our goal is to develop long-term, sustainable relationships with our customers based on our ability to consistently deliver innovative designs and reliable products, all with our trademark customer service. This was a tender that was highly competitive, but we secured it because of our commitment to these strong values."
Eng. Mubarak Al-Woqayan, CEO of Specialities Group Holdings, said: "We actually considered other yards as far afield as Europe, but Grandweld offered a compelling combination of advanced shipbuilding technology, management know-how, and a demonstrated ability to deliver premium products and service. We are confident of Grandweld's ability to deliver the tugs that meet our expectations, all within the specified timeframe."
Press Contacts
Stanford Marine Group
Hind Khawaja
Marketing Coordinator
Tel: +971 4 380 8001
Email: hind.k@stanford-marine.com
ASDA'A BCW
Dhanya Issac
Associate Director
Tel: +971 4 450 7600
Email: dhanya.issac@bcw-global.com
Stanford Marine Group (SMG) is one of the UAE's leading offshore support groups with interests in vessel ownership & operation and shipbuilding & repair. SMG through Stanford Marine, owns and operates offshore support vessels (OSVs) for the oil & gas industry, primarily in the Middle East, South East Asia and Africa. For further information please visit: www.stanfordmarinegroup.com
Grandweld Shipyards, a subsidiary of SMG, is a fully integrated shipyard that was established in 1984 to provide
shipbuilding, ship repair, and engineering solutions, providing both high-quality and value. Grandweld has developed as one of the Middle East region's most established and versatile shipyards to become a renowned UAE exporter. For further information please visit: www.grandweld.com
Specialities Construction (SCC), founded in 1999, is part of the Specialities Holding Group, and is a leading construction company based in Kuwait that focuses on five core market sectors: 1) general construction work, 2) marine works 3) port operations and maintenance works 4) infrastructure works, and 5) electromechanical works. For further information please visit: www.scc-kw.com