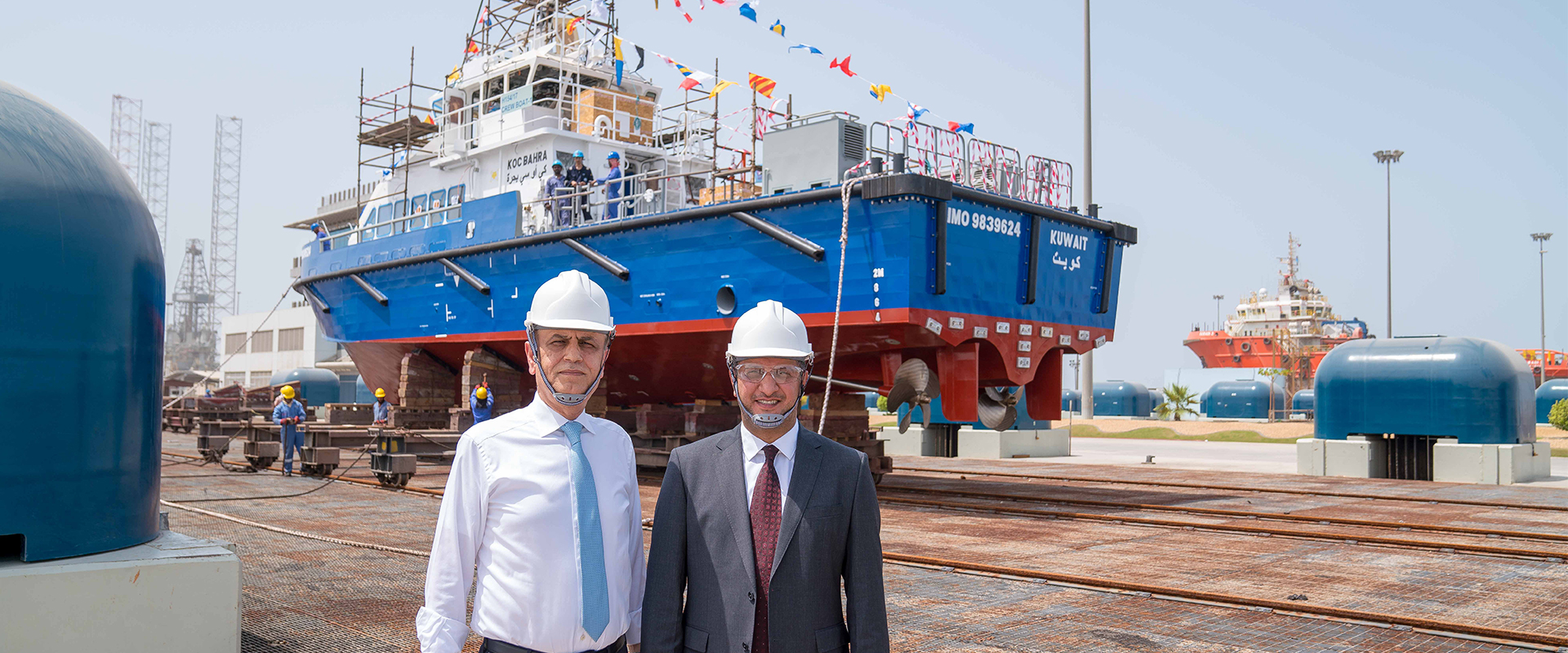 November 30, 2021
4 KOC crewboat deliveries
Grandweld Shipyards delivers four Crew Boats to Kuwait Oil Company
Dubai, United Arab Emirates, xx April 2019: The UAE-based, Grandweld Shipyards, has recently announced a delivery of four Crew Boats to Kuwait Oil Company "KOC". As per the contractual agreement signed in May 2017, Grandweld should build six Pilot Boats and four Crew Boats for KOC. Five boats have been delivered and the remaining five will be delivered in June 2019.
Furthermore, the newly constructed four boats were specially designed to meet the requirements of KOC, in accordance with Lloyd's Register's classification rules in order to provide the highest operational efficiency and safety, and have been delivered promptly without delay.
Commenting on this development, Jamal Abki, General Manager of Grandweld Shipyards clarified, "Our long years of experience in the shipbuilding industry have taught us that every single day a ship spends out of the water leads to a great loss for the ship's owner. Hence, our commitment to meeting deadlines with our work is a core component of our workflow. Furthermore, our team that consists of more than 800 professional specialists, working in the best shipbuilding and repair environment in the region, share the same belief as well. As a result, we are proud to announce the delivery of these four new boats specially designed to meet the requirements of KOC, a leading company with high standards and specifications to carefully pick products, and trusted suppliers. We assure KOC that its confidence in dealing with us will always be in place."
Abki also added, "Our relationship with our clients far exceeds commercial contractual obligations, as we always build their boats to help them succeed in their businesses no matter the circumstance. Delivering the highest operational efficiency with the lowest running expenses is always something we prioritize while building boats to certain specifications. Whether it is fuel consumption or periodic repairs that keeps a ship idle for many days, we strive to achieve steady growth rates for our clients' numbers while maintaining their loyalty. Since our facility has the largest covered shipbuilding area, it is protected from exposure to wind during manufacturing which greatly affects the vessel's hull strength and operational life. Adding that to the power and durability of our steel welding, this enables us to continue developing the best shipbuilding facilities in the region."
High efficiency and specifications
The delivered Crew Boats can carry 30 passengers in addition to three sailors, and the accommodation cabin is furnished with two bunks. The speed of the boats reach up to 28 nautical knots, with a sailing range of up to 150 nautical miles. Each boat has been designed to withstand the roughest weather conditions, ensuring safe transportation for crew members to their place of work during their frequent hour-long commutes throughout the year. This guarantees that none of the facilities which these crew members operate in will break down due to late arrival on site. These high performance capabilities are attributed to the unique design of the boats themselves, and have been modified multiple times during prototype testing for several experimental models in the water. Moreover, the premium material used in building these American, European and Japanese boats, possess the ability to maneuver with high stability during sail.
Elaborating on the company's decision, Sami Al-Sawagh, Marine Operations Manager at KOC clarified saying, "Given that global markets are witnessing an improvement in oil prices, KOC's decision to build these boats came at a very opportune time. Therefore, our fleet expansion will help the company benefit from the next recovery in order to achieve increased revenues and cope with the rising demand for energy. Despite its sudden decline last year, prices have risen to exceed 80 dollars and we foresee that it will revive incrementally. Accordingly, this fleet expansion comes in line with the company's strategic plans to increase production to 3.65 million bpd by 2020. The boats we received will immediately enter into operations as part of the grand production plan of our company, and this was a major contributing factor that resulted in our decision to choose Grandweld Shipyards, as it is well known for its full commitment to meeting scheduled delivery dates."
About Grandweld Shipyards:
Grandweld is a fully integrated shipyard providing shipbuilding, ship repair, and engineering solutions to serve the offshore and marine industry around the world. Established in 1984, Grandweld has developed as one of the region's most established and versatile shipyards, providing both quality and value. Grandweld Shipyards is established to handle repair, refit and conversion for all types of marine vessels. The company works around the clock to deliver high quality services at competitive prices and within swift delivery schedules, ensuring their clients' immediate and long-term needs are always met.
About Kuwait Oil Company (KOC):
KOC was established in 1934 by the Anglo-Persian Oil Company today known as British Petroleum Company (BP) and the Gulf Oil Corporation, today known as Chevron. Since establishment, the company started operating in exploration, land and sea surveying, drilling pilot wells, developing producing wells, in addition to exploring crude oil and natural gas. Today, KOC continues to fulfill its mission to explore, develop and produce oil and gas in Kuwait for its customers worldwide in an environmentally safe and economically viable manner.